News
Visit of the Deputy Minister B. Berdaliev to the site of the project "Reconstruction of the Bishkek-Osh highway. Phase IV ", from Madaniyat to Jalal-Abad
On February 16, 2020, the Deputy Minister of Transport and Roads of the Kyrgyz Republic, B. Berdaliev, visited the site of the project "Reconstruction of the Bishkek-Osh Highway. Phase IV ", from Madaniyat to the city of Jalal-Abad, with a length of 67 km. After leaving the construction site, a meeting was held with the participation of the contracting company Azvirt LLC, the Renardet consulting company, the subcontractor and the regional representative office of the Ministry of Transport and Roads of the Kyrgyz Republic, following which the Contractor was instructed.
1. Take effective measures to maintain the road and ensure the proper level of safety;
2. Accelerate the pace of construction of drainage pipes, taking into account the need to complete work by the irrigation season;
3. Complete the construction of bridges at km 517 + 680, 538 + 300 and 572 + 400, in accordance with the work schedule;
4. To increase the pace of excavation, as well as to begin full-scale work throughout the project site.

For reference:On June 11, 2018, the Ministry of Transport and Roads of the Kyrgyz Republic and the Azvirt LLC Contracting Company entered into a contract for the reconstruction of 67 km of the CAREC Transport Corridor 3 (Bishkek-Osh highway), phase IV, Madaniyat-Jalal-Abad section (507.5 - 574.5 km).
According to the contract at the end of construction work, the highway will receive the following technical parameters:
- 4 lanes in settlements and 2 lanes outside settlements;
- lane width - 3.5 - 3.75 meters;
- estimated axle load - 11.5 tons;
- the device of sidewalks, lighting and drainage trays in settlements;
- reconstruction of old and construction of new stopping areas;
- Planting of new trees in the amount of 36 thousand seedlings.



Transport corridors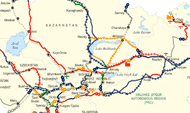 Gallery